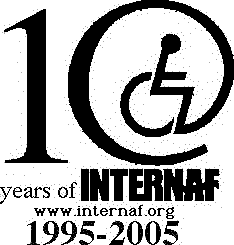 In recognition of the International Ataxia Awareness Day, September 25 2009 (IAAD), we would like to thank the many researchers for their tireless and persistent struggle to help find treatments and someday a cure for all ataxias and related neurodegenerative disorders. Also, thank you to the neurologists, neurogeneticists, doctors, therapists, ataxia organizations and everyone else involved in helping us improve our daily lives. Your dedication is neither unnoticed nor unappreciated.
À l'occasion de la Journée internationale de sensibilisation à l'Ataxie le 25 septembre 2009 (JISA), nous voudrions remercier les nombreux c
hercheurs pour leur lutte inlassable et persistante afin de trouver des traitements et un jour guérir toutes les ataxies et les désordres neurologiques reliés. En outre, merci aux neurologues, neurogénéticiens, médecins, thérapeutes, organismes voués aux ataxies et tous ceux qui nous aident à améliorer nos vies au quotidien. Votre dévotion ne passe pas inaperçue et est très appréciée.